This free game is made up of up to 40 lines and has low volatility in relation to the winnings, meaning they don't usually vary too much. With the ability to customize both paylines and wager, players can risk as little or as much money as they like at one time.
How to play Wolf Run?
We have in IGT's Wolf Run slot a simple game with no major twists. A total of 11 symbols, counting the Wild, can guarantee some prize if at least three are matched. As a traditional 5-reel game, you should ideally be able to collect up to 5 – in which case the Wild can pay out up to 1,000 coins in a single spin.
With an RTP of 94.98% and low volatility, it's common for frequent wins to be low. Also, it is a game without a Turbo mode, which means that it may take some time to be lucky enough to get free spins.
Paylines can be set as a single, 5, 10, 20, 30 or a total of 40. For each line, the bet varies between 1.00 and 300.00. So it is clear that Wolf Run slot is not for those who want to bet pennies. In total, players can bet 12,000 coins in one spin.
What are the symbols and how much are they worth?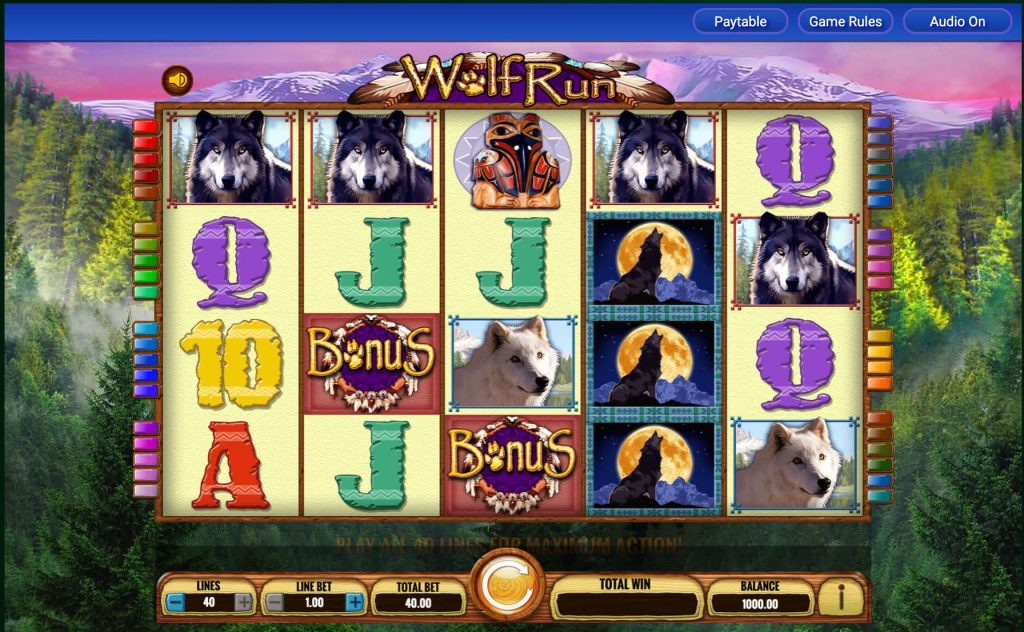 The most valuable symbol is also the Wild, which shows a wolf hidden under the moonlight. Then there are two wolves which pay from 25 to 400 coins, depending on the amount. The totems vary in value from 20 to 250 coins, and the remaining symbols are card symbols, which are typical of slot machines and of little value.
In addition to them, there is an additional symbol that does not account for points, but adds the Wolf Run free spins bonus.
Wolf Run Free Spins
The Wolf Run bonus symbol offers 5 free spins and multiplies by 2x all combinations that fall on active paylines. Considering the low payouts relative to the bets, it's the best chance to win something in the Wolf Run slot.
When the bonuses appear, a small sound effect alerts the player, who creates the expectation of being lucky enough to get three.
Is it worth playing?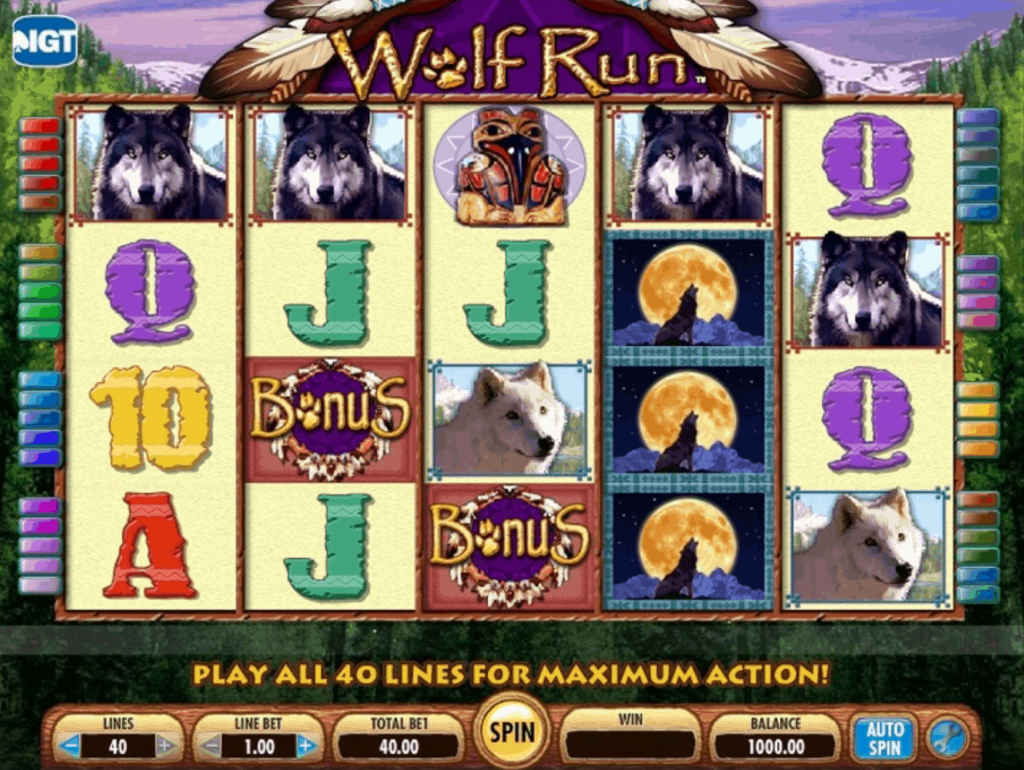 The RTP of 94.98% is not one of the most interesting, and the Wolf Run slot does not have a great variety of bonuses. Still, it is a well-made game and it is perfectly possible to play for free from your Android or iOS device. Moreover, it is recommended in case you can bet considerable amounts, considering that bets start at 1.00 per line.